Julius Röntgen: "AusGoethesFaust"_cpo20082. My work
1. Address of the author of this webpage:
drs. Julius E.F. Röntgen
Strypsedijk 40, 3234 KS Tinte
The Netherlands
Tel/fax: 0181-413035
E-mail: julius@juliusrontgen.info
---
Photo: ©2003, Julius E.F. Röntgen.
---
Special Offer: Lecture on Goethe's Faust (The tragedy First Part (1805) and the Chorus Mysticus) in combination with the composition of Julius Röntgen. Aus Goethes Faust (1931). CD by cpo, produced in 2007.www.jpc.de for further information on this CD David Porcelijn, director in cooperation with the Netherlands Symphony Orchestra (Enschede/Arnhem) and the Choir of the "Nationale Reisopera" (Enschede) in 2007. Price of the Lecture given by the grandson of Julius Röntgen, € 150,– (excl. travel expenses and sejour). This Lecture can also be held in German an Dutch language under the same conditions.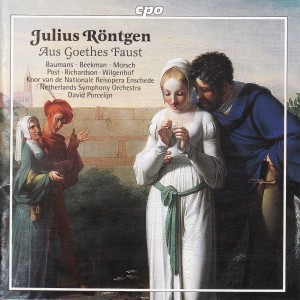 2. Information. Frontispice of the CD published in 2007 with the music of Julius Roentgen's version of Johann Wolfgang Goethe's Tragedy Faust 1 (1808/1832). copyright of the picture cpo 2008 .
After my study time in Leiden I started my professional career as a teacher of German Language and Literature. First in the neighbourhood of Leiden but since 1973 in Rotterdam and vicinity. In the last part of my career I was teacher of German  Language and Literature in the Adult Education and also as a teacher of Dutch Language for Immigrants. In the first ten years of my professional career we had many elder people taking their second chance to get an official certificate, to start e.g. studies at the University or to become higher qualifications.
2.1. Until the August 1, 2006 I was teacher of German Language and Literature at the Department of Education (VAVO) of   in the Rijnmond Region.  Before 1996 I worked in the same school under another name "Mercurius College".  This school was preparing adult learners for Higher Education at Universities and for Higher Vocational Education.
2.2. Since I'm not longer working in the Educational sphere I'm working in several projects: as translator into and out of German language (and literature). I'm specialised in translations of themes on Nature (Conservancy), Landscape and nature oriented recreation. Further translating texts with themes on Musical History and Music.
2.3 Other projects. In 2007 I had a cultural project on the theme Literature and Music. With the Soprano Nienke Oostenrijk I organised one concert in Rotterdam (Galerie Kralingen) with a special focus on German Poetry and Music.
On Saturday July 12, 2008 I had a special program on my musical experiences for "Een goede morgen met…" (A Good Morning With…" in this case Julius Röntgen) produced for NPO Radio 4 (TROS) by Aukelien van Hoytema.
In 2009 (Mai 1) there was a project with the American Mezzo Soprano Karin Foglesong of "SouthwesternCollege" in Phoenix, Arizona. She made an interpretation of a newly found work of my grandfather Julius Röntgen "Lyrische Gänge". My contribution was a powerpointpresentation on the life and work of my grandfather.
I can organize under certain conditions courses and workshops for Adults in German, English and Dutch language on different periods of German Literature: Middle Ages e.g. "Minnesang", Knight Novels (Parzifal), the Romantic Period (1796-1830), the Period of 1880 – 1910 (fin-de-siècle, Jugendstil), Expressionism (1910 – 1920), the literature of the Republic of Weimar (1919 – 1933), the modern Drama of Bertolt Brecht. I made in the late seventies of the last century a special study of the works of Thomas Bernhard. Other excellent German authors are Erich Loest .  He wrote several novels on the GDR-era and the bloodless revolution of 1989: (Völkerschlachtdenkmal, Nicolaikirche and Durch die Erde ein Riss). Walter Kempowski, who died some years ago, was an excellent novelist on the life of the average German citizen of the thirties, fourties and fifties of the last century, who suffered for the Nazi-regime.
But also very interesting is the work of the Nobel prize-winner Heinrich Böll. Since 1990 there is a quick change in the character of the average German Novel. Normal lengthes (600 pages and more) are not longer favourite. After the "Frankfurter Buchmesse of 1994 Dutch literature became more and more interesting for  a big German reading audience: Harry Mulisch, Tessa de Loo, Maarten 't Hart and others. This Dutch influence is to be seen in the work of Bernhard Schlink (*1944) His novel "Der Vorleser"  became a big Dutch bestseller. He is a master in short stories. One of his first books with short stories "Liebesfluchten" (2000) I have used during my lessons directly after publishing to avoid, that pupils were downloading excerpts of interpretation from the Internet. Ten years later Schlink published a new book with short stories of high quality: "Sommerlügen" (2010). In my opinion Schlink is providing German literature of the last ten years with the biggest talent after writers as Siegfried Lenz, Günter Grass, Alfred Andersch, Peter Handke and others of the generation of authors of the fifties and sixties of the last century.
Recently I made a lecture on Goethes Faust, the first part of the Tragedy with music of my grandfather. A CD "Aus Goethes Faust" with music composed by Julius Röntgen has been published by the German Classical Label cpo in 2007. For further information please see above on this page and on the List of CD's published since 1980 in the part of this website dedicated especially to my grandfather
2.4. A very nice Website for both professionals and students of German Language and Literature is the website of Paul Goossen www.duits.de for digital learning. Both students and teachers are finding  there a lot of interesting themes and information.
Tekst reviewed August 1, 2017
---