Website of Julius Engelbert Frederik Röntgen *1945
The picture above is "Sunrise" next to the Naturereserve Merrevliet on the Island of Voorne and is a property of the Dutch Society for the Conservancy of Nature: "Vereniging Natuurmonumenten".                                              Sunrise, May 13, 2011, 5.23 AM. ©2011, picture by Julius Röntgen.
This website is a remodelling of my first site published in 1997 and continued on my new website under juliusrontgen.info in 2009.
Page 1. Short biography on Julius E.F. Röntgen.
Page 2. My work.
Page 3. My hobbies
Page 4. 40 Years of Colourphotography. My first colour slides: part1 France (1963, 1964) part 2. Germany (1964) and part 3 Greece (1965)
Page 6/7 and 8: Journeys to France.
Page8/9 and 10 the Joutney to Greece with young Dutch people, who passed their exams to go to College and Univwersity. July and August 1965.
Page 11 and page 12. The yearly Themepage:  in 2014/2015 the History of the Berlin Wall (August 13, 1961 – November 9, 1989)
The picture above: on the right: ©2011, Joost Galema, Hilversum.
All pictures and texts: ©2015, Julius Röntgen
Last revision of this page: August 1,  2017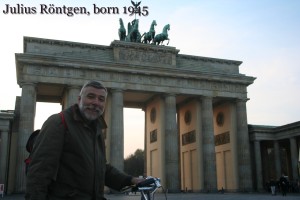 Berlin. Julius with his bicycle in front of the Brandenburg Gate, view from The Eastern side of Berlin.
this picture© 2007. Fred Winsser (USA), my American Cousin from Boston (MA).